Thu
08 June 23 -
Thu
08 June 23
14.00 - 18.00 h
Location
ZeM – Brandenburg Center for Media Studies
Hermann-Elflein-Str. 18
D-14467 Potsdam
and online
Hybrid Event "Research on Creative Education in Crisis". Initiative Grün meets Klasse Klima
On 08.06.2023 the Initiative Grün of the Film University Babelsberg KONRAD WOLF in cooperation with the ZeM – Brandenburg Center for Media Studies organizes a hybrid lecture followed by an opportunity for exchange. Our guests are Klasse Klima, a student collective from the Berlin University of the Arts, who will be with us after their lecture "Research on Creative Education in Crisis" for a conversation about the engagement of (art) universities in the climate crisis.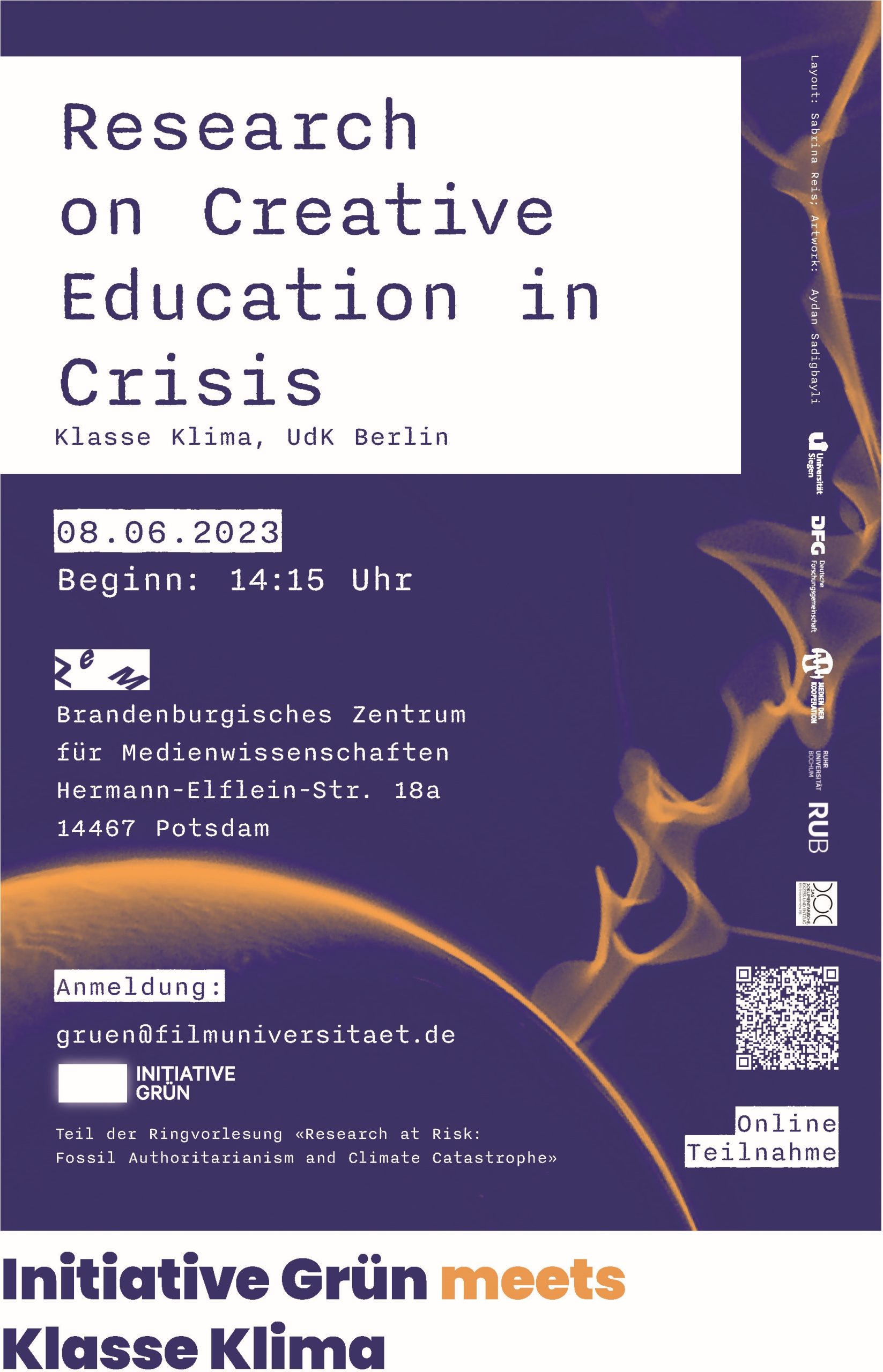 The lecture will take place from 2:15pm in the rooms of ZeM in Potsdam and will also be streamed, the following exchange will start around 4pm. For on-site participation, registration via email () is requested in advance!
The event is part of the interdisciplinary lecture series "Research at Risk: Fossil Authoritarianism and Climate Catastrophe", organized by the Working Group "Research at Risk" (Gesellschaft für Medienwissenschaft). Program and zoom access are available on the website of the DFG Research Training Group 2132 "Documentary Practices".
Working Group "Research at Risk": Julia Bee, Azadeh Ganjeh, Philipp Goll, Philipp Hohmann, Hannah Neumann, Maike Reinerth, Tatjana Seitz, Michaela Wünsch.