Sa.
11. Juni 22
11.00 - 17.30 Uhr
Digital Exhibition: How to become a posthuman
June 11, 2022 – November 27, 2023
https://www.fabulationforfuture.net/exhibition/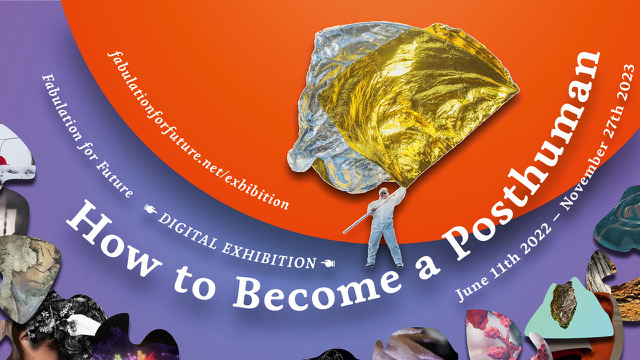 Online Opening
June 11th 2022, 11am-1.30pm and 3-5.30pm CET
Zoom-ID: 818 687 5998 Passcode: yMGn2z
https://us02web.zoom.us/j/8186875998
Due to the interrelated ecological, pandemic and economic crises, we see that humanity and its anthropocentric way of living on a damaged planet is in need of urgent change. The digital exhibition /How to Become a Posthuman/ is a first step and presents outcomes of the ongoing artistic research project /Fabulation for Future/. The sympoietic and transdisciplinary project began 2021 with a compelling call for participation in a summer school at the Film University Babelsberg KONRAD WOLF to which numerous emerging international artists and philosophers were invited. Participants were to take on a fictive deputyship in order to perform together as an /International Committee to Save the Earth through Speculative Fabulation/. In a 9-month collaborative process, the artists-deputies explored in real terms what speculative fabulations can do to save the planet. They scrutinized whether, how, and by what artistic means a post-anthropocentric future can be shaped from the present. How can we rethink, reimagine and retell the earth as a habitat for all species with different spheres of life? How can we reconnect ourselves, these species and spheres in a non-anthropocentric way? /How to Become a Posthuman/ is dedicated to fabulations, projections and thoughts that open up possibilities for agential performativity – an explicit "call for action" that highlights artistic creative power as an important factor for future processes of transformation.
Participating deputies of the /International Committee to Save the Earth through Speculative Fabulation/ are:
Dovilė Aleksaitė, Sanja Anđelković, Jenny Brown, Elisabeth Brun, Belén Cerezo, Raquel Felgueiras, Kausik Ghosh, Florian Goeschke, Vanessa Graf, Anouk Hoogendoorn, Kristin Johnsen, Paul R Jones, Dani Landau, Stacy Lo, Roksana Niewadzisz, Marie-André Robitaille, Gonzalo H. Rodriguez, Szilvia Ruszev, Sanja Särman, Marie Louise Juul Søndergaard, Alisi Telengut, Bela Usabaev, Joshua Wagner, Lisa Walder, Dörte Weig.
With special contributions by
Fee Altmann, Christine Reeh-Peters, Prudence Gibson, Gusztáv Hámos / Katja Pratschke, Marie-Eve Levasseur, Kika Nicolela.
The exhibition is collectively curated by
Fee Altmann and Christine Reeh-Peters in cooperation with Gusztáv Hámos / Katja Pratschke, Jyoti Mistry, Madhuja Mukherjee and Kika Nicolela.
Design by
Damian Domes.
Project management by
Christine Reeh-Peters, Juniorprofessor for Theory and Practice of Artistic Research in Digital Media
in cooperation with the Filmuni Summer School and the IKF – Institute for Artistic Research, Film University Babelsberg KONRAD WOLF.
Supported by
DAAD – German Academic Exchange Service and ZeM – Zentrum für Medienwissenschaften Brandenburg.
The International Symposium on Artistic Research "Intraactivity: the Posthuman, Fabulation and Matter" was the reflective launch for the Masterclass Artistic Research "Fabulation for Future." The jointly developed digital exhibition How to Become a Posthuman concludes the Masterclass.